PRESS RELEASE – NUMBER 1 SINGLE
Official press release from Artistry Management Press & Publicity Department
Strict Embargo; 07:00 hrs,
Saturday October 17th, 2020
Artistry are excited to announce that one of their artist, Adrian Warwick has just secured a second consecutive number 1 single in the I Tunes Classical Charts working as the lyricist on a truly gorgeous musical piece composed by internationally acclaimed composer, Olga Thomas and sung by Soprano, Joanna Forest, who delivers a most exquisite vocal performance. The song is titled Flowers on The Doorstep and is available on I Tunes, Apple Music and Amazon.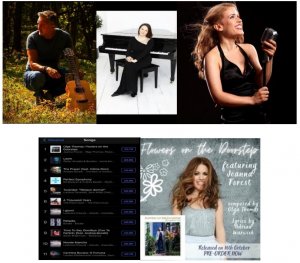 Composer Olga Thomas said, oh my goodness, now this is exciting news to wake up to!  My new single "Flowers on The Doorstep" has gone straight in at NUMBER ONE in the I Tunes Classical Chart.  Thank you so much to Joanna Forest who has sprinkled her beautiful soprano magic on the track once again, and to Adrian Warwick, Lyricist whose lyrics capture the essence of the piece.  I'm absolutely THRILLED that our hard work, our belief in the song, has paid off.  The DREAM TEAM has done it again."
Adrian Warwick Lyricist said, "I feel truly honoured to have been invited by Composer Olga Thomas to write lyrics for her composition for a second time, and now to have been part of a team that has written two consecutive number ones, amazing.  Also, Joanna Forest has put in yet another beautiful performance on vocals, she has the ability to bring a song to life in the way she expresses the lyrical content to compliment the song."
Two consecutive number ones, a co-writing relationship with Mark Young as Warwick & Young and working as lyricist for the amazing composer Olga Thomas.  What more is to come?  Artistry can confirm that Adrian is writing with mark as WARWICK & YOUNG, which includes 3 to 4 singles being recorded to be released in the very near future.
Exciting times.
For more information on John Pierce please contact Jannie Rawlinson a info@artistrymanagement.co.uk
Notes to Editors
Adrian Warwick is a song writer/lyricist who has been described by internationally acclaimed composer Olga Thomas, as the new Byron.  He writes songs and lyrics for Ballads, Modern Country, Crossover Classical and Pop.  See his details at www.warwickandyoung.co.uk
or more information contact Adrian's Manager, Jannie Rawlinson Artistic & Business Director at Artistry Management on 07765258662 or at jannie@artistrymanagement.co.uk